Web development, as you know, involves the basic steps that need to be done while developing a website. Some of these tasks may include web engineering, web design, web content development, client liaison, client-side/server-side scripting, web server, network security configuration, and e-commerce development.
Web development can make or break your business website's profitability. Although the look and layout of your business website might be noticed first, it's the site's compatibility, features, loading time, and expandability that will ultimately make it profitable. Hire a professional web design agency like Blue Light labs (Official sites: https://www.bluelightlabs.com/) to get your things done perfectly.
Web development can be done in two ways:
Open source development

Custom web development.
In Open source Development, the website is created using some of the open source software like angular js, bootstrap, etc. The source code that we use for the website is publicly available and anyone can download it and have the same website.
On the other hand, Custom web development is defined as the customized source code that helps in designing the website as per the client's requirements.
Out of the two, Customized web development is better and it serves many benefits over open source development. Custom made websites are the envision of the client that is interpreted exactly on the web by designers.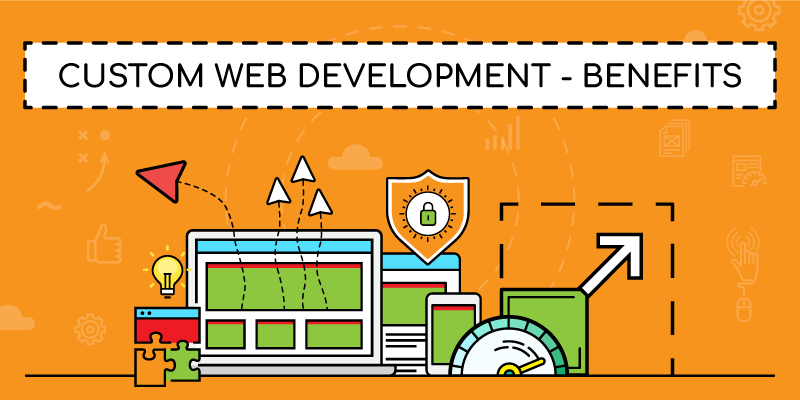 Benefits of using Custom Web development are:
Customized solutions

:  Everyone has their own requirements. With open source, you are bound to follow certain templates that are already created and this reduces the uniqueness of the content. With customized web development, you can have your customized website content and design which increases the website's exposure.

Website Speed:

Website load times are very crucial for your business and can make the difference between landing and losing a client.  Custom building your website enables you to completely ignore the irrelevant functionality. With avoiding unnecessary functionality, building each of the functions for your site enables you to optimize the functionality with the design, in addition to reducing load times.

Usability:

 With the site being customized, it will be more flexible to work with a particular website. This increases the usability and scalability of your website. Today, a large number of users access websites on their mobiles, therefore device compatibility must be kept in mind while designing. People will visit more if the process is simple and clear.

Search Engine Optimization

: Customized websites are designed in order to increase traffic and sales. If your site is customized as per SEO Techniques, it is easier to bring the ranking of your website and your site will reflect more in the Google results. This somehow, Increases the traffic to your website.

Security Constraint

: Customized websites are difficult to hack as their source codes are not publically available. Moreover, We can add some security codes in our websites, so that if someone tries to hack our website, we will get to know about it and the site can be saved.
These are some of the key benefits of Customized web development. It is very beneficial for any business website whether it's a small site or any large volume site. It can make your website rank globally and we can increase its exposure digitally. It can open new doors for your website in this digital world and can uplift your business.
Designers and developers collaborate to create unique websites for all businesses, read this article to understand the key elements required to make a great website.